Until now, dentists have had only two choices in the treatment of small cavities, dentally known as incipient caries: use fluoride to restore enamel through remineralization   OR "watch and wait" until it is time to "drill and fill."  ICON represents an entirely new, revolutionary approach to treatment of incipient cavities – a resin infiltrate. Developed in Europe over the past decade, ICON is the subject of numerous international studies proving its effectiveness. This breakthrough micro technology fills and reinforces demineralized enamel without destructive drilling or painful shots.
Dr. Shvartsman is at the forefront of dental innovation & commitment to patient comfort.
Now with ICON he can treat your small cavities without drilling, injections and "watching" the cavity get bigger.  ICON provides a revolutionary, never-before-seen option for treatment of white spots and incipient cavities between the teeth. Instead of taking a "watch and wait" approach, ICON can arrest the progress of early enamel cavities up to the first third of dentin – in one simple procedure, without unnecessary loss of healthy tooth structure, that means NO MORE DRILLING!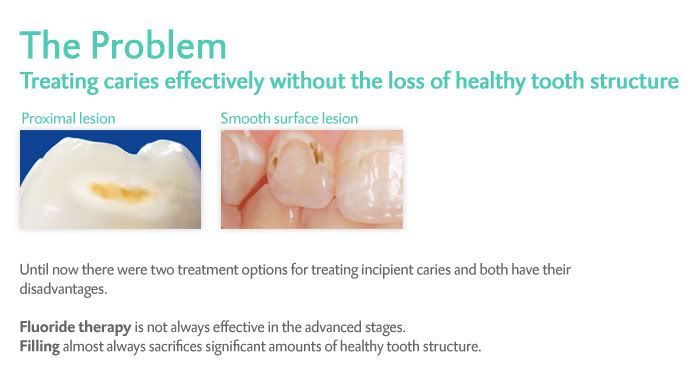 Fluoride therapy, as well as other remineralizing agents, take many months to accomplish and are not always effective because remineralizing protocols require daily application and are dependent on patient compliance. Besides, many of our patients are opposed to fluoride use. Mechanical removal of decay whether by drilling or laser almost always sacrifices healthy tooth structure.
White spots on your teeth are the result of weakened, demineralized enamel. They are often the first sign of the start of a cavity. Many patients find these white spots unsightly.   ICON can cosmetically remove white spots in just one visit! This provides a highly esthetic alternative to destructive treatments of cariogenic white spots – all in one simple treatment, with no drilling, no shots, no noise and in just 10 minutes per tooth!
ICON treatment enables Dr. Shvartsman to immediately treat cavities not yet advanced enough for conventional restoration and ends the "watch and wait" approach. It stops tooth decay progress without unnecessary loss of healthy tooth structure.  ICON allows for a conservative cosmetic treatment of unsightly cariogenic white spots in one short visit. There is no injection required, for optima l patient comfort. No drilling is necessary, eliminating the drilling noise and tooth destruction. Patients with poor compliance to remineralization protocols are excellent candidates. ICON is not just minimally invasive dentistry . . . it is micro-invasive. Ultimately there is prolonged life expectancy of the tooth.
How does ICON work?
The tooth is cleaned, and treated with an acid to open up the enamel and dentin. The tooth is then dried with alcohol.  Utilizing a specially developed infuser tip an ultra thin resin is applied to the tooth surface. Through capillary action, similar to a sponge soaking up water, the weakened enamel and dentin absorb an ultra thin resin over a period of 3 minutes.  The tooth surface is then wiped clean and the resin is hardened with a specialized blue LED light. That's it! you can go have lunch, meet with a client or simply enjoy not being numb for several hours.
Dr. Shvartsman is the first and only dentist in the Smithtown area to make this novel product to available to his patients.  Feel free to reserve an appointment to see if you are a candidate for ICON Drill-free dentistry. State of the Art Comfort Dentistry is now accepting new patients!